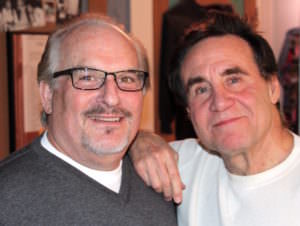 Congratulations to MacMyDay client and friends Kevin Carter and Steve Resnik at RAMP (Radio and Music Pros.) on launching of their web site RAMP247.com. RAMP started off in 2009 as an radio and music industry email newsletter. And since then it has been an industry source for radio and music news. And after almost 2,000 issues, they have announced RAMP247.com, a 24hr (yes, in-a-row) web site for all the RAMP news. Click here to check out RAMP247.com
"I worked with Kevin Cater starting back in 1993 at Hitmakers Magazine, a music industry, weekly printed publication. Where he was the Sr. Editor, and I started off a lowly intern, and then eventually became Sr. Director of Production. Over the years of working together, Kevin was always amazed by my creative writing skills, and always asked 'if my parents had any kids that lived'. With that I knew we have a life long friendship. And later on, he has used MacMyDay to help him with all his Apple Mac computer service. Kevin is one of the funniest and nicest industry people I know" – Tommy Grafman
"Steve Resnik and Kevin Carter have worked together continuously since 1998, when they first teamed up at the late, great Gavin Report in San Francisco — Resnik was doing sales and Carter was Gavin's Top 40 Editor. In what was seen at the time as a bold break from the traditional weekly trade magazine delivery model, Gavin made the decision to launch a daily fax(!) publication, which was ironically called Gmail. [Ed. note: if only we had the presence of mind at the time to trademark that name… we would probably be on a beach somewhere].
When Gavin shut down in early 2002, Carter and Resnik took that now successful daily publication concept over to Radio & Records, where the product was converted to email delivery and rebranded as Street Talk Daily. Seven years — and several thousand issues later — R&R sadly shut its doors in June of 2009. After a two-month hiatus, and in a newly forged partnership with our friend Rob Barnett at My Damn Channel, R&R alums Carter, Resnik and Keith Berman launched the first issue of RAMP (Radio and Music Pros) on Sept. 23, 2009.
Today, Resnik and Carter are the sole owners and partners in RAMP.